The NBA will commemorate Martin Luther King's legacy and ethos with a 12-game schedule and various activities across the league on Monday January 16, a day after what would have been the civil rights icon and Nobel Peace Prize winner's 94th birthday.
January 16 NBA Schedule:
Sacramento Kings vs San Antonio Spurs
Orlando Magic vs Denver Nuggets
Dallas Mavericks vs Portland Trail Blazers
Philadelphia 76ers vs Los Angeles Lakers
Boston Celtics vs Charlotte Hornets
Indiana Pacers vs Milwaukee Bucks
Golden State Warriors vs Washington Wizards
Toronto Raptors vs New York Knicks
New Orleans Pelicans vs Cleveland Cavaliers
Miami Heat vs Atlanta Hawks
Utah Jazz vs Minnesota Timberwolves
Phoenix Suns vs Memphis Grizzlies – live on Sky Sports Main Event HD (23:00), Sky Sports Arena HD (23:00)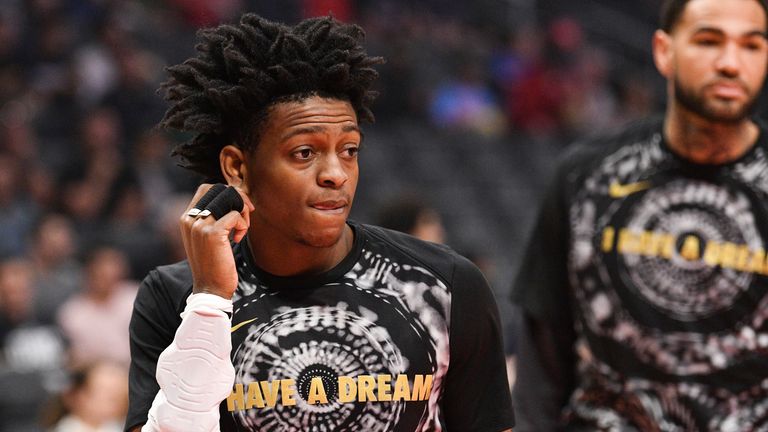 What's happening around the league?
The Washington Wizards will be wearing shirts reading 'now is the time to make justice a reality for all' in all of their warm-ups and practices. A pre-game panel will also be taking place to honour King, according to the website.
Taking a page out of the same book, the Milwaukee Bucks will be hosting a non-profit fair during Monday's game, inspired by Kings' volunteerism and community advocacy.
In Atlanta, the clash with the Miami Heat will feature an event and a performance during the game as a tribute.
The Memphis Grizzlies aren't far off to that extent either. Unlike the other examples, the Grizzlies have been honouring King for the better part of five days now.
From writing encouraging notes, painting murals, working on arts and crafts and far more at Springfield Elementary School, these players have taken a different approach to understanding the first-hand effects of their impact on society.
"It's powerful for these guys to understand the impact they make not just as basketball players, but as members of society," said head coach Taylor Jenkins.
The services for many will not just be a one-day event. Just like 'Volunteer Memphis', which kicked off from last Thursday evening, thousands of people will be volunteering at local community centres to do their bit on MLK Day.
On the Monday, the games itself will kick off from midnight UK time onwards, with Sky Sports' morning coverage producing the latest highlights and reactive content, on the latest dunks, MVP-level performances, and any All-Star permutations.