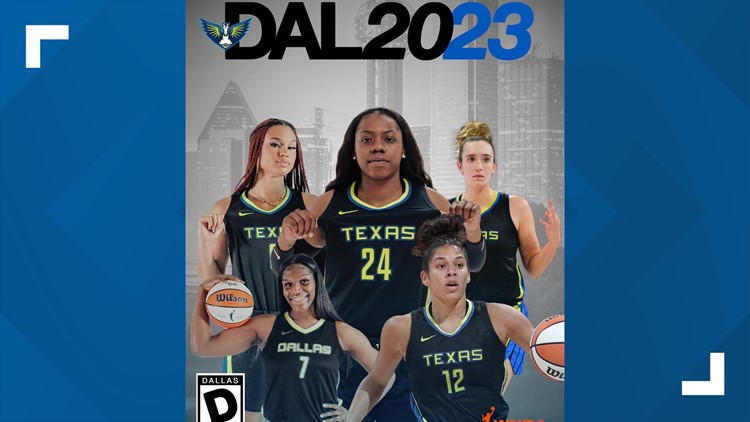 The Dallas Wings will open their 2023 season against the Atlanta Dream on May 20 at College Park Center in Arlington!
DALLAS — The Dallas Wings are complete! Head coach Latricia Trammell announced the remainder of the coaching staff, including two WNBA standouts and college stars, that will join her on the quest to a WNBA championship in DFW this upcoming season. 
First up, meet the newest assistant coaches: April Schilling and Courtney Paris. They'll join previously announced Assistant Coach Brandi Poole.
Assistant Coach April Schilling
Schilling has had stops at every level of basketball, recently serving as both the head coach with Bella Vista College Prep in Scottsdale, Ariz. and an advanced scout for WNBA's Minnesota Lynx.
"It's a blessing to unite with Coach Trammell. It's my hope to be a contributing member to this group as we strive for excellence. I can't wait to get started," Schilling said about joining the Wings.
Schilling was a part of the Nigerian Women's Basketball Olympic Team staff in 2021 and made her WNBA coaching debut in 2020 when she joined the Indiana Fever as an assistant coach. Prior to her coaching career, she played at the collegiate level for the legendary Pat Summitt at the University of Tennessee, helping the team advance to three Sweet 16s and two Final Fours.
Schilling then transferred to the UCSB where she help lead the program to its first Sweet 16 appearance in program history.
As a professional player in the WNBA, Schilling spent time with three teams, the New York Liberty, Minnesota Lynx and Washington Mystics.
"I have long admired April's relentless pursuit of coaching and teaching the game of basketball," Trammell said. "She has experience at all levels of basketball and is an elite instructor when it comes to the Xs and Os of the game. She will provide tremendous insights to our team and I am thrilled to welcome her to Dallas."
Assistant Coach Courtney Paris
If Paris sounds familiar, it's because she was a star at the University of Oklahoma and the team's all-time leader in points and rebounds. She became the first NCAA player – regardless of gender or division – to accumulate 2,500 career points and 2,000 career rebounds.
Paris was the first ever four-time Associated Press and USBWA All-American and USBWA All-American in women's college basketball history.
In 2009 WNBA draft, Paris was selected 7th by the Sacramento Monarchs. Over her 10-year career she had stints with the Tulsa Shock and the Dallas Wings, before finishing her career with the Seattle Storm where she won a championship in 2018.
When she retired from the league in 2020, she went back to her alma mater OU, where she spent the 2020-21 season as an assistant coach.
"I'm incredibly fortunate that we have someone like Courtney joining the staff, as she brings a wealth of experience from the collegiate and professional ranks that will benefit our players tremendously," Trammell said. "Her resume as a player speaks for itself and I cannot wait to watch her grow as a coach and teacher here in Dallas. I know our team will view her as an invaluable resource."
Paris shared in the sentiment and is excited to be a part of her former team.
"I'm thrilled to be coming back to the Dallas Wings. This team keeps getting more exciting… I'm truly looking forward to this summer and help this team reach its full potential," she said.
Player Development Coach Zak Buncik
Trammell announced Tuesday that Zak Buncik is returning as the Wings' player development coach.
This will be Buncik's second season with the team.
"We are excited Zak is returning to the Wings family," Trammell said. "He brings a fresh perspective to our staff and I know our players trust and respect his training and developmental regimens. I look forward to working with Zak to help our team take that next step in becoming a championship team."
Before joining the Wings, Buncik ran a skills development business where he worked with all levels of basketball players, including NBA and WNBA stars. He also was on the men's coaching staff at UT-Arlington, where the team had their winningest stretch in program history from 2008-2018.
Strength and Conditioning Coach Preston Smith 
Another Wings staff member returning for a second season: Strength and Conditioning Coach Preston Smith.
"I am looking forward to working alongside Preston and having him continue his great work with our players, ensuring that they always are able to compete at their most optimal level on and off the court," said Trammell.
The Dallas Wings will open their 2023 season against the Atlanta Dream on May 20 at College Park Center in Arlington. Season tickets and single game tickets can be purchased here.


story by The Texas Tribune Source link