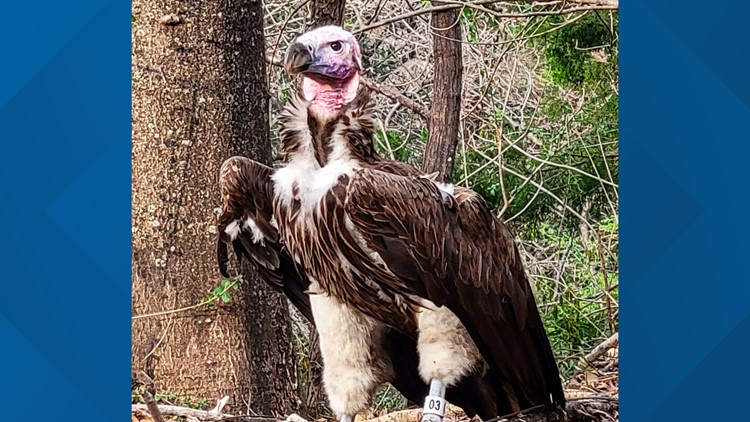 Pin, a lappet-faced vulture, had been at the Dallas Zoo for 33 years. He was found dead in a "suspicious" manner over the weekend.
DALLAS — An endangered lappet-faced vulture was found dead by Dallas Zoo officials over the weekend — the third suspicious event to happen within the last 10 days at the zoo.
During a news conference on Monday, officials said the "unusual" death of Pin, the vulture, is "extremely concerning," especially in light of the recent escape of a clouded leopard.
Pin was one of four lappet-faced vultures at the Dallas Zoo and had been there for 33 years. This species of vulture is considered endangered, according to the zoo.
Pin was found dead on Saturday morning by staff, zoo officials said. Details surrounding Pin's death were not released. Officials would only say the vulture had some sort of wound.
Dallas police are handling the investigation into the vulture's death. The department said its animal cruelty unit is investigating.
The police department is also investigating fencing that appeared to be intentionally cut at the habitats for the clouded leopards and Langur monkeys. One of the clouded leopards escaped on Friday, Jan. 13, and was eventually found on the zoo grounds.
It's unclear whether the three events are related, but zoo officials and the police department aren't ruling out anything.
"We're assuming everything at this point and that's why we brought Dallas police in," Gregg Hudson, Dallas Zoo's president and CEO, said.
"Over the weekend, they have been conducting interviews not only with zoo staff but also going over and gathering any video surveillance they may have at the zoo," Dallas police spokesperson Kristin Lowman.
In response to the recent events, the Dallas Zoo said it has stepped up overnight security and is also limiting outdoor access for some of the animals overnight.
A $10,000 reward is being offered for any information that leads to an arrest and indictment, according to the zoo.
Anyone who may have information is urged to call police at 214-670-7694.
More on Pin
The Dallas Zoo released a fact sheet on Pin, the lappet-faced vulture.
About Pin, the lappet-faced vulture
Pin was a male lappet-faced vulture that was at least 35 years old. He arrived at Dallas Zoo 33 years ago, and we don't know his exact hatch date.
Pin was one of four lappet-faced vultures at Dallas Zoo. Three remaining birds (two male, one female) still reside here.
Pin was much beloved by the Bird Department –

He sired 11 offspring – they now live at Albuquerque BioPark, Zoo Atlanta, Jacksonville Zoo and Gardens, Cincinnati Zoo, and here at Dallas Zoo.
His first "grandkid" hatched in early 2020; she now lives at Maryland Zoo in Baltimore.
The lappet-faced vulture, native to Africa and parts of the Middle East, gets its name from the folds of skin on either side of its neck called lappets.
Vultures are often known as "nature's clean-up crew" – they play a critical role in consuming dead animals and ridding the environment of the spread of potentially deadly diseases from that carrion.
Its wingspan of up to nine feet makes this the largest vulture in Africa.
Given their size and strength, lappet-faced vultures are often the first of the vulture species to arrive once a carcass is detected; smaller scavengers depend on lappet-faced vultures to do the heavy work: tearing open the carcass.
These are long-lived birds, which reproduce slowly; usually with only one or two offspring per season.
According to the International Union for Conservation of Nature (IUCN), they are considered endangered, with a chance to move to critically endangered.
There are likely only 6,500 individuals of this species left on earth. This is considered a small, very rapidly declining population.
There are now 27 individual lappet-face vultures in U.S. zoos, and 41 in zoos outside the U.S. (in Europe and the Middle East).
Their greatest challenges in the wild are due to poisoning by poachers and farmers, and habitat encroachment.
Dallas Zoo's role with the species
The Association of Zoos & Aquariums' Species Survival Plan for this species is hosted by the Dallas Zoo. One of our Lead Zoologists is the Studbook Keeper and Coordinator for this program that helps sustain the population in AZA- accredited institutions.
That role tracks every individual in the North American population, and oversees recommendations for potential pairings, as a part of the breeding program.


story by The Texas Tribune Source link