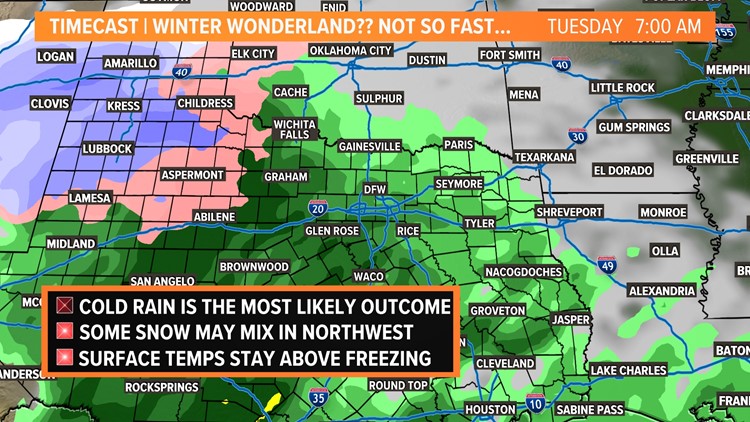 Some models are hinting at winter weather for the last full week of January. Here is what we are thinking.
DALLAS — Quick recap of what we're expecting: 
Measurable precipitation expected next week
Below normal temperatures next week
The set-up
Southerly winds return late Sunday and through the day Monday. This brings added moisture to North Texas. Meanwhile, a strengthening low moves over the Four Corners with a cold front. The expected cold front will help temperatures drop.
Timeline
Monday night:
A cold front approaches from the west with showers developing across North Texas. As of now the threat of severe weather is low, but a few storms in Central Texas could develop. 
Tuesday:
A cold front will be moving from west to east across the area. During this time, scattered showers and isolated storms will span across North Texas. Temperatures will be hoovering in the 40s for the majority of the day. This means that winter weather is unlikely. The more likely scenario is cold rain throughout the day.
It is worth a mention, some models indicate the chance for winter precipitation. This is likely due to colder temperatures above the surface. We could see some sleet mixing in with cold rain northwest of the area without any impacts. 
Tuesday night:
Rain will be coming to an end from west to east. Drier, colder air will filter in after midnight as temperatures get close to the freezing point. 
Keep checking back in! We will have a better idea of the timing and duration of the cold rain and cold temperatures over the weekend. 


story by The Texas Tribune Source link