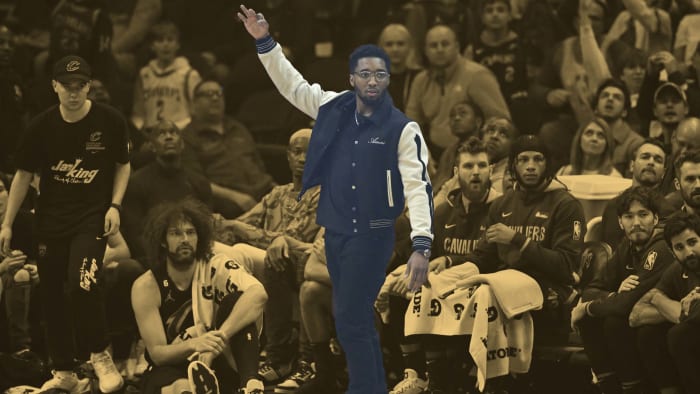 For those who may be wondering how Donovan Mitchell would fare as a running back in the NFL, the Cleveland Cavaliers star gave his two cents on Sunday. 
While the question might seem random, it was actually brought to light when an NFL announcer accidentally said the guard's name after Elijah Mitchell, a running back for the San Francisco 49ers, made a play. The announcer immediately corrected himself, but the gaffe prompted his co-hosts to joke that "Spida" has enough athleticism to be a good running back.
Mitchell apparently caught wind of the statement and humbly refuted the notion.
What does a running back do?
The running back is one of the most glamorous offensive positions in the sport behind the quarterback. Its typical role is to receive a handoff from the quarterback sometime after the snap, then rush the ball toward the end zone. Of course, running backs may also be tasked with catching passes, depending on the play.
For that reason, RBs have to be quick on their feet, know how to find open spaces to run with the ball, catch the ball effectively, and power through or leap over the defense from time to time. Based on those skills, it is not that unthinkable to believe that the athletic Mitchell can do well as a running back.
Maybe baseball?
While some other NBA players, such as LeBron James and Allen Iverson, could have gone professional in American football, the Cavs guard excelled in a different sport – baseball.
During high school, the New York native played baseball in addition to basketball. Furthermore, his father is a former Minor League Baseball player who eventually became an executive in Major League Baseball, which allowed Mitchell to spend time in MLB locker rooms as a child.
As it turned out, Mitchell made the right decision to focus on basketball. He has become a household name in the NBA, thanks in part to his offensive talent and playoff heroics over the past years. This season, he has helped transform the Cavs organization into a playoff contender.