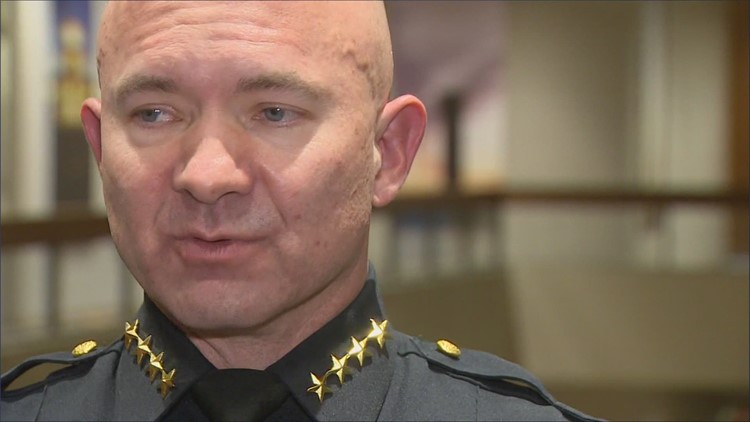 A 15-year veteran FWPD officer is on administrative reassignment during the investigation involving one man being shot during domestic violence run.
FORT WORTH, Texas — Red and blue police lights lit up a south Fort Worth neighborhood Saturday afternoon following gunfire from an officer. They used crime scene tape and their squad cars to block traffic in the 4900 block of Rutland Avenue.
Fort Worth Police Chief Neil Noakes eventually talked about what led to one of his officers shooting a domestic violence suspect.
Noakes said, "It's a sad situation any time an officer is forced to use his weapon."
Just before 12:30 p.m. Saturday a woman in the 4900 block of Odessa Avenue called 911 about her brother threatening her with a gun. When Officers arrived, he reportedly took off out a back door of the house and sparked a foot chase with officers that ended one block east on Rutland Avenue. When officers finally caught up with him, they used a taser to try to arrest him.
"Unfortunately, that taser deployment was not effective and did not subdue the suspect. Then at about 12:26 pm the suspect presented a deadly threat to the officers," said Chief Noakes. 
The leader of the Fort Worth Police Department responded to the scene. He gave an update to the media with as much preliminary information as possible. This is the second shooting scene in a week where the Chief has given preliminary details about what happened.  It's part of the chief's promise to make the Fort Worth Police Department as transparent as possible. One of his missions is to build trust with the community he and his officers have sworn to protect and serve. 
During the briefing on Rutland Avenue, Chief Noakes stayed neutral about the deep details of the shooting but expressed that he supports and trusts his officers who are on the street every day. In this case, one of his veteran officers is involved in a critical police-involved incident. 
After the taser failed to subdue the suspect on Rutland Avenue, Noakes said that is when a 15-year veteran officer shot and injured the suspect, who they believe had a weapon on him.
Chief Neil Noakes said, "A handgun was located on the scene in the immediate area of the suspect."
In the U.S. 19% of Domestic Violence 911 calls involve a weapon, which increases the risk of homicide by 500% and there are 20 thousand calls a day to 911 about domestic violence.
"Domestic disturbances are not only dangerous to the victims of that senseless crime but also to the officers who respond as well," said Chief Noakes.
The man shot by police received immediate first aid from officers and now he is stable according to Chief Noakes.  
The officer involved is on administrative reassignment during the shooting investigation, which is a standard operating procedure in cases like this. In recent officer-involved shootings, either Noakes or someone from his command staff has narrated details about an incident, releasing edited police body cam and dash cam video. 
FWPD has not released the name of the man shot Saturday afternoon on Rutland Avenue. Chief Noakes plans to release more information as soon as possible as long as it doesn't jeopardize the investigation.


story by The Texas Tribune Source link