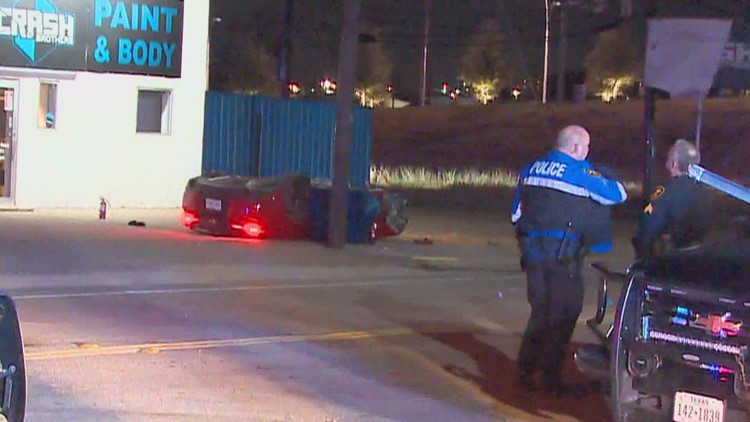 Police said the vehicle sped off from the takeover when officers showed up. Shortly after, the vehicle went airborne and struck a light pole's transformer.
FORT WORTH, Texas — Police in Fort Worth say two people have died and two others were injured in a crash that happened after they fled from a street takeover Sunday night.
Officers tell WFAA that they responded to a report on the takeover shortly after 11 p.m. on Jan. 22. They pointed out a red Camaro being the main vehicle involved in the event.
When police got to the scene on University Drive near White Settlement Road, they briefly turned on their vehicles' emergency lights. According to the department, the Camaro turned off its lights and sped off eastbound on White Settlement, but police didn't go after it.
Later, police on the White Settlement "saw a bright flash on the traffic circle," according to the department. Officers said the Camaro had become airborne and struck the transformer of a power pole.
The driver and passenger in the vehicle died in the collision, police said. They have not been identified at this time.
The other two were pinned inside the overturned, burning vehicle until they were pulled out by patrolling officers.
No other information is available.


story by The Texas Tribune Source link