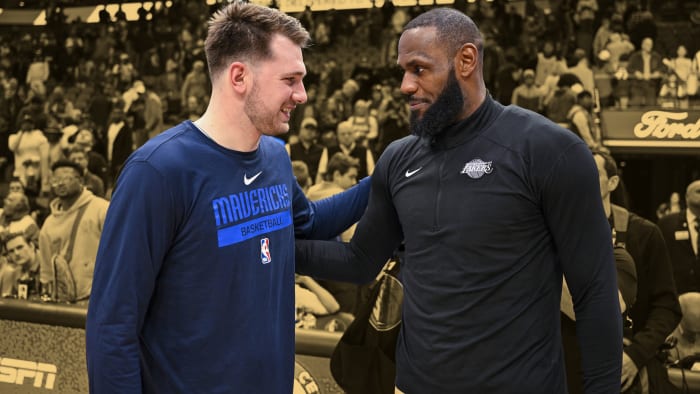 LeBron James locking horns against Luka Doncic is a battle of two of the best generational talents to have embraced the NBA with their presence. With their latest encounter detailing just why these stars will soon be labeled with another All-Star accolade against their name, the 38-year-old could not help himself in applauding the baby-faced assassin despite a disappointing loss in double OT on Thursday.
After Doncic dropped a game-high performance of 35 points on Thursday to lead his side to a 119-115 win on the road, LeBron left no time to hug him out after the clock timed out. On the one hand, where Luka knocked a couple of clutch 3-pointers to stretch the game, LeBron managed to lead his side with 24 points and 16 rebounds.
The 4-time NBA Champ hailed Doncic by stating the reason why he loves his game, "His size. I mean he's gigantic. A 6-8 point guard. He's 225 pounds. He has the ball on a string. And more importantly, his vision."
Can Doncic chase down LeBron in the All-Time Points scorers tally?
The 23-year-old never shies away from praising LeBron James and even confessed to not playing in the league at the same age Bron is shining high. Doncic, who turned pro at the mere age of 13, came into the NBA after establishing himself as the best player in Europe. So, there is no denying that a decade of experience in professional basketball can help him get closer to the record and legacy of King James in the coming years.
Safe to say, it'll be incredible to witness if the modern-era great can replicate the same longevity as James.
For the time being, Luka is rigorously chasing his first MVP honor, averaging a staggering 34.3 points, 9.0 rebounds, and 8.8 assists per game in the 2022-23 NBA season at an efficiency rate of 50% from the field, and 35.6% from behind the arc.
While LeBron desperately seeks to help the LA Lakers not to miss the playoffs again, Doncic has led his Dallas Mavericks to 5th seed in the Western Conference courtesy of a 24-19 record.