Mid-January marks the halfway point of climatological winter. Some are wondering "what winter?" while others need a much-deserved break.
Snow differences
Mother Nature didn't waste any time dropping snow on Western New York. A monster pre-winter lake-effect snowstorm dumped anywhere from two to seven feet of snow from Nov. 16-21.
A month later, what's been called a "once-in-a-generation" blizzard slammed the Buffalo region with four feet of snow and 70 mph wind gusts. The storm killed at least 47 people, making it deadlier than the city's historic Blizzard of 1977. Continuous blizzard conditions lasted for a day-and-a-half, the longest on record there.
Buffalo has had over 100 inches of snow–double its average through mid-January. A little more than an hour's drive to the east in Rochester, this season's snowfall is barely over 12 inches, amounting to just a quarter of what's typical through this point of the season.
That theme is common throughout much of the East. Many places outside the lake-effect belts have gotten just a fraction of what they usually do by now. Despite low snow totals, ski resorts in Upstate New York are getting by, even though it means making their own snow.
In fact, New York City has not yet officially had measurable snow (at least a tenth of an inch). Its latest date on record for the first measurable snow, and first inch, is Jan. 29, 1973.
An intense storm system in mid-December brought blizzard conditions to the Plains, and yet another powerhouse weather-maker slammed the Plains and Midwest days later. That was the same storm that crippled Buffalo, and also snarled travel and sent a cold wave across the country. 
Memorable cold in a warm winter
The sprawling bitter blast leading up to Christmas meant businesses. An arctic cold front sent temperatures plummeting, with some places falling 30 to 40 degrees, if not more, in a matter of hours.
Casper, Wyoming fell to -42 degrees, its coldest temperature on record. Denver dropped to -20 degrees, the city's coldest temperature in over 30 years… and plummeted 42 degrees in an hour on its way there. Cheyenne, Wyoming shed 40 degrees in just a half-hour as the cold front bulldozed its way through. 
Even Florida dealt with the cold. Tampa had back-to-back freezing mornings for the first time since 2010.
Freezing temperatures caused problems on the power grid as outages left well over a million people in the dark and cold, according to the Associated Press.
On the whole, though, much of the country east of the Rockies has been warmer than average this winter. That's played no small role in the dearth of snow for many. The polar plunge of late December was followed by one of the warmest starts to January on record for many in the central and eastern U.S.
Atmospheric rivers on the West Coast
The West Coast dealt with a three-week barrage of winter storms starting at the end of December. A strong atmospheric river that was basically a firehouse of moisture fueled it.
The average precipitation in the state of California from Dec. 26 to Jan. 17 was over 11 inches, according to NOAA's Weather Prediction Center. San Francisco got over 15 inches, and a few locations picked up over 30 inches.
In the Sierra Nevada mountains, epic snowfall over 15 feet fell over just a few weeks. Mammoth Mountain, California, recorded an astounding 240 inches, or 20 feet.
All this has been a double-edged sword. The heavy rain caused flooding and mudslides, leading to millions of dollars in damage and at least 20 deaths. And farther north in the Pacific Northwest, periods of wintry weather in December prompted officials to open shelters and caused big headaches for drivers.
On the other hand, California's reservoirs are in better shape than they were at the start of winter. The drought situation, while still an ongoing problem, has improved. Extreme or exceptional drought conditions covered 40% of the state in early December; in mid-January, it had dropped to zero.
Mark Pestrella, director of the Los Angeles County Public Works department, says they collected enough water to supply about 800,000 people for a year. Other places have already met their average precipitation for the "water year," which started on Oct. 1.
Tornado outbreaks
Two severe weather outbreaks have struck this winter. The first happened in the southern U.S. from Dec. 12-15 while the Great Plains faced one of their blizzards. Meteorologists confirmed 68 tornadoes, the strongest of which was rated an EF-3.
A second outbreak hit the Deep South on Jan. 12 after producing a few tornadoes in Kentucky. One tornado destroyed several building in the historic city of Selma, Alabama. Thirty-seven tornadoes, including two rated EF-3, killed at least nine people.
Four days later, Iowa had two weak tornadoes–the first reports of January twisters in the Hawkeye State since 1967.
 Where we're going from here
The Climate Prediction Center's outlook for February shows that warmer-than-average temperatures continue to be favored in the East. Odds lean toward the cool side for the Northern Plains and Northwest.
The northern tier of the country, along with the Ohio Valley and Great Lakes, may trend on the wetter side to finish climatological winter. The CPC outlook shows the far southern U.S. has somewhat higher odds of being dry.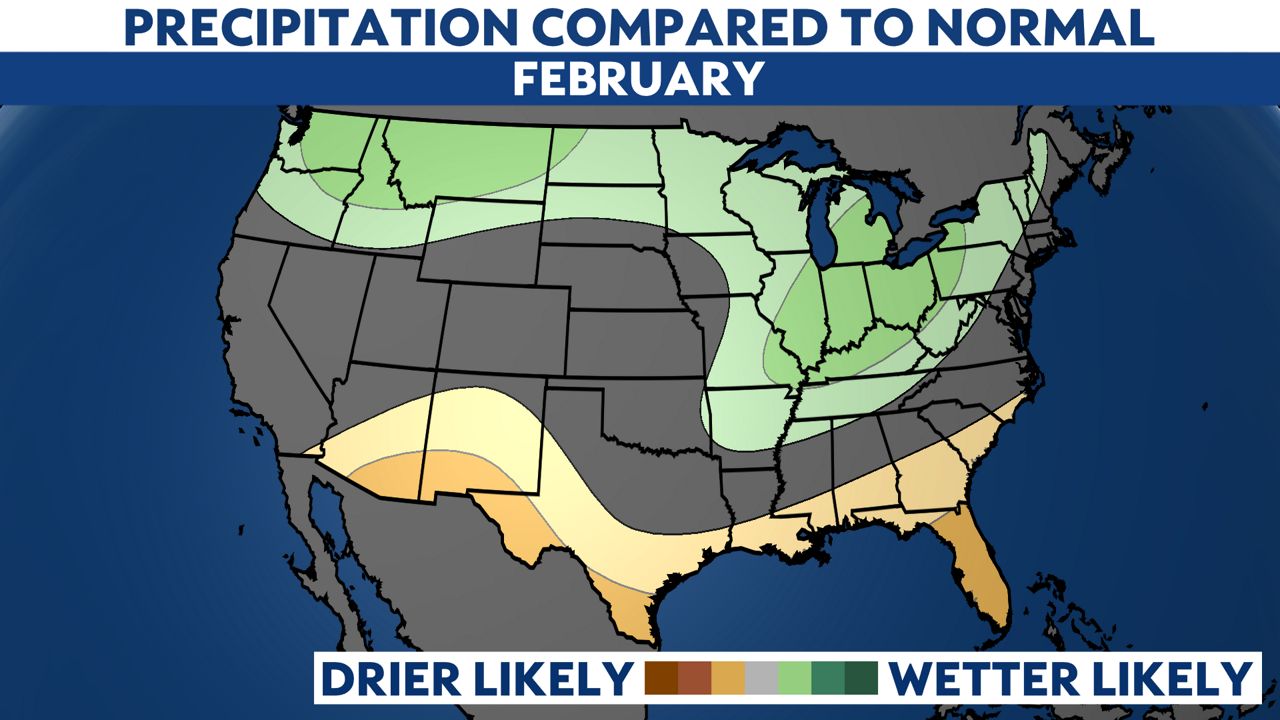 Climatological spring begins on March 1, and astronomical spring begins March 20.
Our team of meteorologists dives deep into the science of weather and breaks down timely weather data and information. To view more weather and climate stories, check out our weather blogs section.