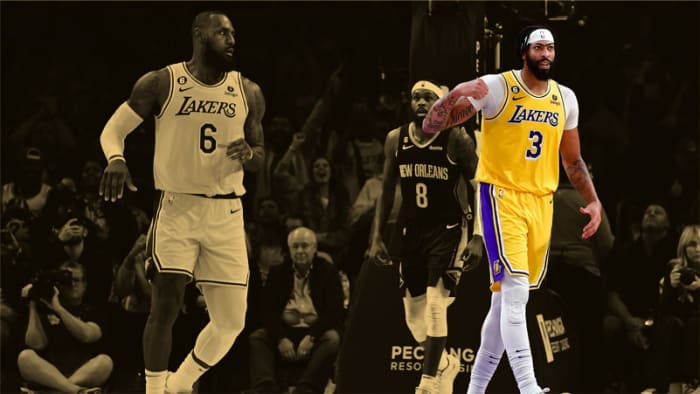 The Los Angeles Lakers are winners of two consecutive games against high-quality opponents. After a horrible string of contests to start the 2022-23 season, things seem to be looking up for the proud franchise. Lakers star Anthony Davis also believes that "it's starting to click" for the squad, which should serve as a warning to opponents.
"We know our defense is doing their job," Davis said after Los Angeles' overtime win over the New Orleans Pelicans. "We just need our offense to catch up. It's starting to click. We're starting to find things, find rotations, find situations where we're really good. And guys are staying ready, coming in, playing well. We're starting to put everything together."
"Winning streak"
When the Lakers lost their first five matches of the season, a lot of people were quick to write the team off. But the past two games have shown that L.A. can put it together to win against potential playoff contenders.
Fortunately, several things are going well for the Lakers.
For instance, Russell Westbrook has started to get into his stride since the coaching staff removed him from the starting lineup. His numbers are not up to par with what people have been used to, and he is still turning the ball over at a high rate. Even so, Brodie has been more efficient, and the Lakers have been outscoring opponents every time he is on the floor.
Also, other players have stepped up in the past two games, including Lonnie Walker IV, who has been playing freer under a new coach, and Matt Ryan, the former DoorDash driver who made the game-tying shot that sent the Wednesday contest into overtime.
A healthy AD
Perhaps what can help the Lakers sustain their run is a healthy Davis. He has missed just one match so far. That was when Los Angeles saw its winless start extend to five games with a loss to the Minnesota Timberwolves on Friday.
This season, the eight-time All-Star is averaging 23.2 points, 11.5 rebounds, and a combined 4.5 steals and blocks per contest. If he can continue his production (and stay on the court), the Lakers' chances of making it to the postseason will significantly increase.