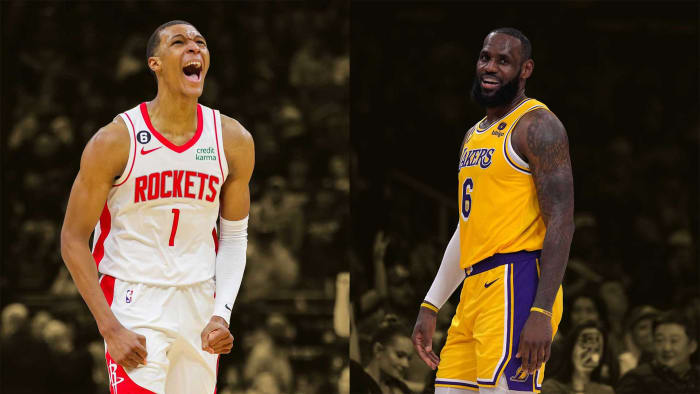 Monday saw a viral moment between LeBron James and Jabari Smith Jr. making rounds. Prior to the matchup, the Houston Rockets rookie approached the 38-year-old superstar, telling him that he played against Jabari Smith Sr. in his first-ever NBA game.
"You played against my dad, you're first NBA game ever, Sacramento," the younger Smith said teasingly. "You feel old, don't you?"
Lighting up the next-gen
It seems James forgot about playing against the elder Smith based on his response to the younger Smith's joke. That's probably not because of the Los Angeles Lakers forward's age, as he has put his sharp memory on display time and time again. Instead, a likely reason for the oversight is that the elder Smith was a DNP in that game and didn't technically face off against James.
The four-time MVP laughed at the Rockets youngster's banter, but it may have served as motivation to light up Houston and lift the Lakers to a 140-132 victory. 
James finished the evening with a season-high 48 points to go along with eight rebounds, nine assists, and three makes from beyond the arc. He also took the opportunity to remind the 19-year-old forward that he has barely missed a step despite playing in his 20th season.
A great ride
After the game, host Jared Greenberg caught up with the 18-time All-Star and asked him about his earlier interaction with the younger Smith, causing him to realize great of a ride his career has been thus far.
James has definitely had a unique NBA journey, with his longevity allowing him to match up against several father-son duos in the league. Aside from the Smiths, "King James" has also had the pleasure of battling against the Paytons (Gary and Gary II), Rices (Glenn and Jr.), Martins (Kenyon and KJ), Brunsons (Rick and Jalen), and Trents (Gary and Gary Jr.), to name a few.
The four-time champ will be around for a few more seasons, so it wouldn't be surprising to see him face off against other such duos. But, of course, that isn't James' goal, as he is more focused on staying in the league until he can be on the same team with his son, Bronny.