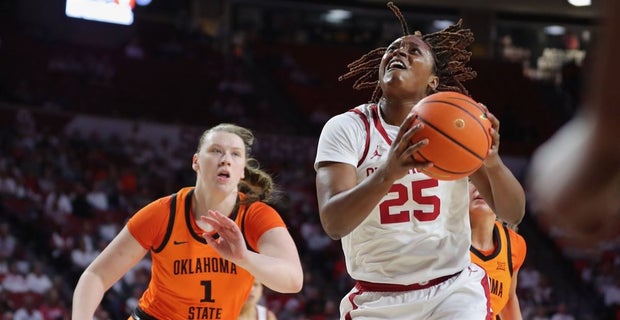 NORMAN, Okla. — Madi Williams has been named the Big 12 Player of the Week for the second time this season and the fifth time in her storied Oklahoma career. The Sooner guard was announced the league's recipient after a pair of great performances in victories over TCU and Oklahoma State.
(Follow all things Sooners — take five seconds to sign up for our FREE Sooners newsletter now!)
Williams averaged 22.5 points on 63% shooting last week. That included a 26-point outburst on 9-of-17 from the floor in a thrilling 97-93 come-from-behind win over Oklahoma State, and the conference's first 19-point, five-assist performance on 80%-or-better shooting in less than 25 minutes since 2009 in a 93-66 blowout over TCU.
As evidenced by that, her all-around performances powered the Sooners. Williams added seven rebounds and three steals to her total in the dominance over the Horned Frogs. Scoring 17 of her points in the second half against the Cowgirls, she also collected four rebounds and three assists in the winning effort.
Williams is averaging a team-high 16.9 points this year, with 6.3 rebounds, 2.6 assists, and 1.5 steals per game. Per the Big 12 and Her Hoop Stat, she is the only player in the country to average 27 points, 10 rebounds and four assists per 40 minutes as the unanimous All-Big 12 honoree is making her case for a host of national awards.
"I don't know why anybody wouldn't want to play that way where everybody has the green light and we're making reads and we're not having to keep looking at [head coach] Jennie [Baranczyk] like, 'What are we running? What are we running?'" Williams said. "We don't have to slow the ball down. We know. We know. And so we're able to play and just keep playing. We don't have to stop."
Get the fastest scores, stats, news, LIVE videos, and more. CLICK HERE to download the CBS Sports Mobile App and get the latest on your team today.
She and the Sooners (16-2, 6-1 Big 12) return to action Wednesday when they take on the Texas Longhorns in Austin. Tip off is set for 7 p.m. CT on Longhorn Network.