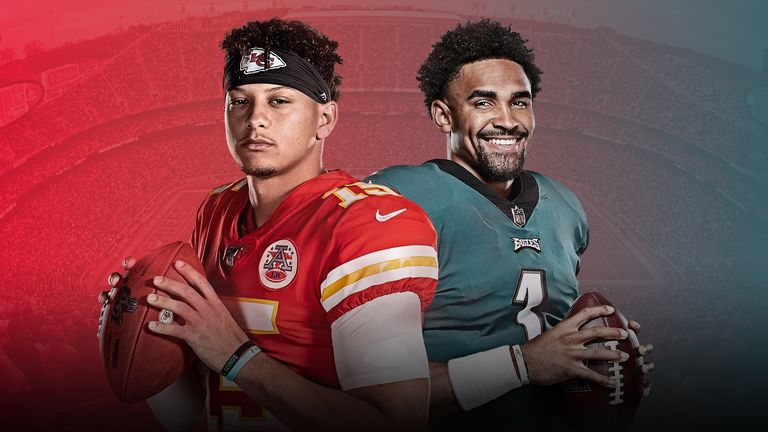 The two teams with the best 2022 regular season records enter the NFL postseason fray on Saturday as the No 1-seeded Kansas City Chiefs and Philadelphia Eagles take to the field.
There were just two 14-win teams this year, and both have expectations of going all the way as they host Divisional Round games.
MVP favourite Patrick Mahomes and mid-season front-runner Jalen Hurts, coming off tremendous campaigns, will look to take the first step in leading their sides to the promised land.
But what made these two teams the best during the regular season? What are their strengths and weaknesses, and where do they stand with just two wins required to reach the Super Bowl?
Let's dive in with the AFC champions…
Kansas City Chiefs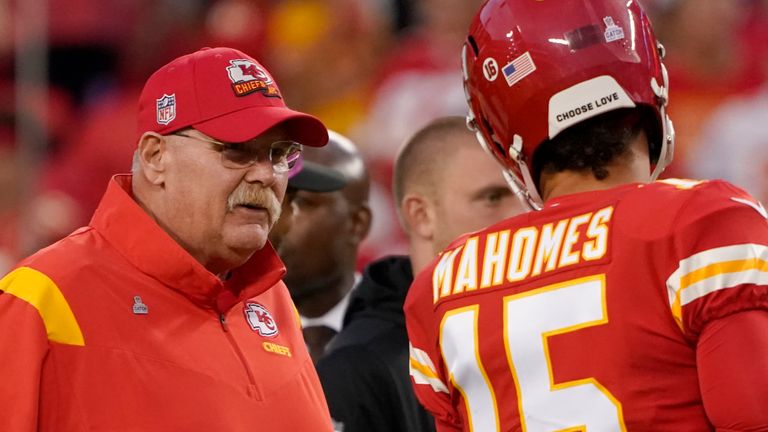 Story of the season
In the five seasons Patrick Mahomes has been Kansas City's starting quarterback, they have won the AFC West, produced at least 12 wins, and reached at least the Divisional Round of the playoffs each time.
This one was no different: 14 wins, the top seed wrapped up, a league-leading offense in both yards and points – this has become the norm in Missouri. Head coach Andy Reid continues to build winning teams that destroy anyone in their path, and Mahomes is thriving.
Interestingly, two of KC's three losses came at the hands of the Buffalo Bills and Cincinnati Bengals – one of which they would face in the Conference Championship if they were to advance past the Jacksonville Jaguars. But overall, they are the team to beat and the favourites to lift the Vince Lombardi Trophy.
Players to watch
At 27 years old, Patrick Mahomes is the 'old man' of the quarterback group in the AFC. And let's be honest, what he has done in five years would amount to a very strong career for a 10-15-year veteran, let alone someone who is just getting started.
We've written extensively about how special Mahomes is, and yet again this season he showed why he has a chance to go on to be the greatest ever to do it. No, that is not hyperbole – there hasn't been anyone like Mahomes.
He led the league in passing yards (5250) and touchdowns (41). He joined Drew Brees as the only players ever with two seasons of 5,000+ and 40+, and Mahomes did it in his fifth year as a starter, not his 11th.
Quite simply, 'Showtime' is unstoppable, and he makes your jaw drop each and every week.
No Tyreek Hill this season? No problem. Tight end Travis Kelce has been a go-to target for many years and he had a career-highs of 110 catches and 12 touchdowns (along with 1,338 yards) in another fantastic campaign.
While there wasn't much of a running game to shout about, the Chiefs under Reid have the uncanny ability to get their playmakers in space and they did that with speedy back Jerick McKinnon, who had nine receiving touchdowns this year – the highest mark by an RB in the Super Bowl era.
The defense, while not in the elite group, is buoyed by defensive lineman Chris Jones and his 15.5 sacks and 17 tackles for losses. Pressure will be the key to their success, and they have improved massively in that area from 31 sacks in 2021 (29th) to 55 this year (second).
How they will win it all
How many times will we be talking about Reid-coached teams looking to reach a championship game? The Chiefs will become the third team in NFL history to appear in five straight if they top Jacksonville on Saturday. This is after Reid led the Eagles to five NFC Championship games during his time in Philly. Put simply, his motivation, variety, and experience all get the best out of his teams when the playoffs come around.
Mahomes comes alive in the spotlight, and he is looking to make it four straight postseason outings with at least 275 yards and three TD passes – and an eighth game out of just 12 playoff appearances with three-plus TDs.
Kelce steps up in the big-time too, and continues to have one of the greatest playoff careers for a tight end ever. He already holds a streak of at least 95 yards in his past six playoff games, and with another 100 on Saturday, will move into third all-time in playoff receiving yards – he's already tied third in TDs.
The Chiefs score points. They come up with both spectacularly creative plays and produce moments of thrilling backyard football. Yet again, Kansas City have a real chance to win it all.
Philadelphia Eagles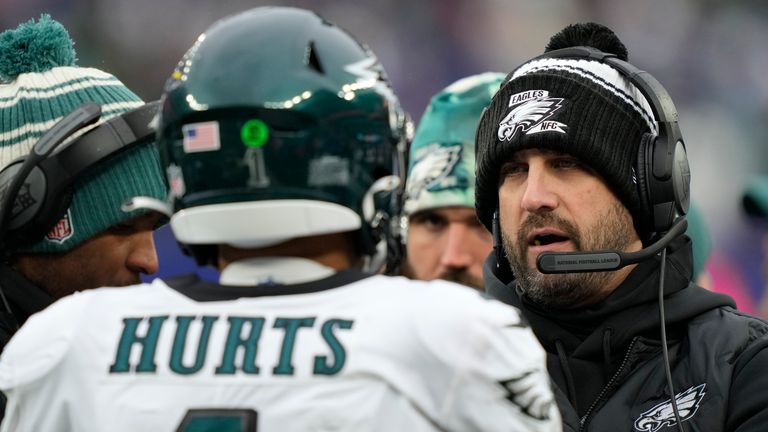 Story of the season
Through the first half of the season, the Eagles were the hottest team in football. At 8-0, they remained the NFL's lone undefeated side. After a surprise Monday Night Football loss to the division rival Washington Commanders in Week 10, they rattled off five more wins in a row, including a three-game stretch scoring 123 points.
Then, during their win over the Bears, Hurts suffered a shoulder injury and missed two games – back-to-back losses to the Cowboys and Saints – before returning, albeit not fully fit, for a Week 18 win over the Giants' backups.
Players to watch
The Eagles have stars in abundance. Philadelphia boasted a 1,000-yard rusher in Miles Sanders and two 1,000-yard receivers in AJ Brown and DeVonta Smith.
Their offensive line is stacked with stars – All-Pros in center Jason Kelce (brother of the Chiefs' Travis) and right tackle Lane Johnson lead the push for a formidable group, but guards Landon Dickerson and Isaac Seumalo and LT Jordan Mailata should not be overlooked.
They had four defenders with over 10 sacks – Haason Reddick, Javon Hargrave, Brandon Graham and Josh Sweat – with Reddick earning 16 and an NFC Defensive Player of the Month award for his performance in December.
On top of that, safety CJ Gardner-Johnson was tied for the league lead with six interceptions despite missing five games through injury.
Ultimately, as well-rounded as the Eagles were and are, it will all come down to Jalen Hurts and how he performs. Without him, the team wasn't a winning one.
With him, they had a 14-1 record, he threw for 3,700 yards and 22 touchdowns with a 101.6 quarterback rating. He ran for 760 yards and scored 13 TDs on the ground. He was immense all year – except the two games in which he played hurt (58.3% completion percentage, no touchdowns, three picks and a 64.8 QB rating).
How they will win it all
The Philadelphia Eagles are arguably the most well-rounded team in the NFL. They had the third-best offense in terms of yardage allowed and points scored. They had the second-best defense in terms of yardage allowed and gave up the eighth-fewest points. They were third in turnover differential (+8).
And they excel in the areas that generally win playoff football. They ran the ball extremely well (147.6 yards per game) and had a whopping 32 rushing TDs this season, tied for second-most in a single season. When needed (and often simply when wanted), they can run the ball straight through their opponents.
Defensively, the Eagles get to the quarterback as mentioned above – and at a blistering pace. Their league-leading 70 sacks this year were the third-most in NFL history.
The big question is health – of Jalen Hurts after a shoulder injury that kept him out of two games, of Lane Johnson after he returns from a 'core muscle tear', and of Josh Sweat after he left the game against New Orleans with a neck injury.
The talent is there, but will they show it?
Watch Jacksonville Jaguars (9-8) at Kansas City Chiefs (14-3) followed by New York Giants (9-7-1) at Philadelphia Eagles (14-3) from 9.30pm on Sky Sports NFL.