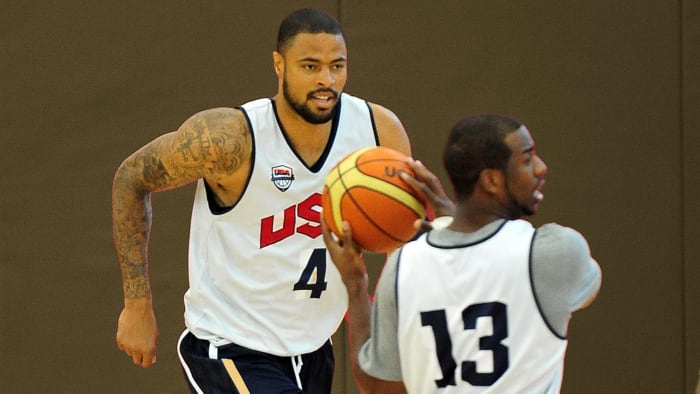 Winning the NBA Finals is the greatest accomplishment a basketball player can achieve in the NBA. And while some players will win a championship ring without playing a single minute in the series, some legends will go their full career without winning a single title. It's tough to see these players fail to earn the most significant accomplishment you can achieve in the NBA, but that's just how the cookie crumbles sometimes.
Tyson Chandler gives Chris Paul his flowers
One such player who is among the group of all-time great basketball players who haven't won a championship is Chris Paul. Despite playing in 142 career playoff games, Paul has only made it to the NBA Finals once and failed to come out on top in his lone appearance. There's still time for Paul to win his first championship, but he will be 38 years old by the time this season ends, so time clearly isn't on his side here.
Winning a championship is such an important part of players' resumes nowadays that not winning it gets held against the players who could reach the top of the mountain far more than it should. Paul is one player who is ridiculously underrated as a result of his inability to win a championship, despite all that he has accomplished throughout his career. Tyson Chandler doesn't agree with that notion, and recently went out of his way to give Paul his flowers in the middle of a trying season with the Phoenix Suns.
"Chris Paul ain't won no championship, but he's a champion. He taught me to love again, for the game, he made it exciting again, he made it fun. He made me fall in love with the game and remember why I was playing in the NBA, competitive and all that. And that's kind of when things started to take off for me and get back to the way it was again, just about the game." – Tyson Chandler, Knuckleheads Podcast
Chandler believes that Chris Paul helped his career take off
Chandler and Paul only spent three seasons together with the New Orleans Hornets, but it's clear that Paul managed to have a massive impact on Chandler in a limited amount of time. Chandler blossomed into the dominant two-way threat he was during the prime of his career, and Paul continued his ascent into one of the best playmaking point guards in the league's history.
Considering the impact Paul managed to have on his career, it's not exactly surprising to hear Chandler cast aside the commentary that Paul isn't a legend just because he hasn't won a title in his career. Paul will easily go down as one of the greatest point guards in the history of the league for his ability to score, pass, and play fantastic defense all throughout his career. Even at 37 years old, Paul still makes a significant impact on the Suns.
There's a decent chance that Paul will finish his career without winning a championship, but that shouldn't take away from the individual accomplishments he has achieved throughout his time in the NBA. Chandler reminds everyone that just because Paul may not end up winning a ring, he's still a champion in the eyes of many, including himself, and that it will be a long time before people forget about the impact Paul has had on the NBA.