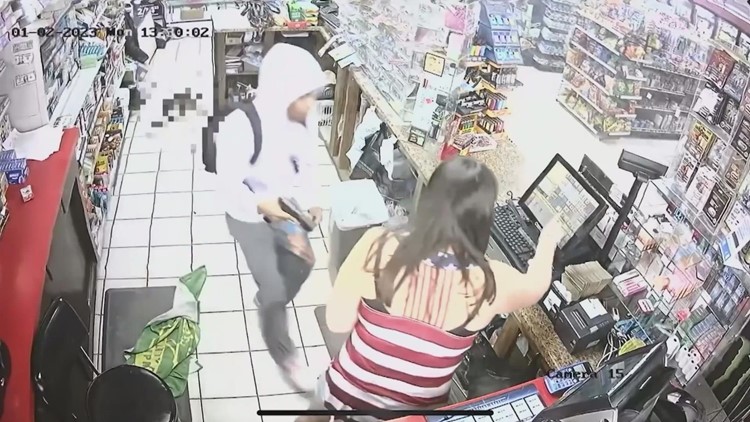 Police say the suspect is responsible for at least four armed robberies in the Saginaw area of Fort Worth.
FORT WORTH, Texas — Saturday evening, Fort Worth Police arrested a suspect who is considered armed and dangerous.
They say 18-year old-Donavin Copeland, who also spells his name as Donovin Copeland, is responsible for at least four armed robberies in the Saginaw area of Fort Worth.
Jan. 11, 3:00pm — Convenience Store at 101 Longhorn Road in Fort Worth. Fired gunshot into ceiling, demanded cash. Stole clerk's vehicle.
Jan. 2 – 601 N. Main, Sunny mart convenience store – suspect shot dog, placed gun at clerk, demanded cash and clerk's car.
Dec. 27 – Game Room 117 Longhorn Rd. – 2 suspects – 1 pistol whipped victim, stole cash and clerk's car.
Dec. 7 – Convenience Store in Saginaw. Fired shot at clerk, missed clerk, stole cash and clerk's car.
All cars were recovered in west Fort Worth
Fort Worth Police Detective Brian Rainsford says, "He is extremely dangerous, he is a clear and present danger to the public and law enforcement.''
Victims are left shaken up as they're forced to leave their stores open.
"One guy, he is coming," said Waseem Purdit, a store clerk.
Waseen described the suspect, who he says robbed them on Wednesday.
"Cash register money, one fire," said Waseem.
Waseem is a store clerk at the Valero gas station on Longhorn Road in Fort Worth.
He says his coworker is left shaken up after the suspect shot right into the cigarettes.
''Today we're asking for the citizens' help in locating an extremely violent aggravated robbery suspect. All of these robberies have the same similar MO,'' said Detective Rainsford.
Surveillance video shows us one of the armed robberies happening at Sunny's Market on North Main Street.
''Suspect opened fire, killed a small dog that ran towards the suspect. The suspect placed a gun to the clerk in the store demanding cash, and the victim's car,'' said Detective Rainsford.
Employees nearby saw part of it unfold.
''That explains why they guy left in such a hurry,'' said Steve Crouse, who works next door.
Off camera, we spoke to employees at Sunny's Market, who tell us they are working in fear. They say they have no choice, because they have to put food on the table for their loved ones. That's the same story for the mother and son working at the taco truck in the same parking lot, and the bar owner. They're constantly looking out for one another.
And a cross for the beloved dog, Peanut, sits in front of the store.
''That was like a 14-year-old dog, a little dog, that big, what's going do to you?,'' said Steve.
Everyone is just hoping someone turns in the suspect immediately.
''Do what you got to do. Stop trying to hurt other people,'' said Crouse.


story by The Texas Tribune Source link